NICK FRIEND: Among the fields of Lodhran, an underrepresented outpost in rural Pakistan, sits the Tareen Cricket Academy, founded by Multan Sultans co-owner Ali Khan Tareen. Its role? To create opportunities in a part of the country where few exist.
Once upon a time in the not too distant past, Lodhran was a scarcely acknowledged outpost; it existed as an underrepresented district in a single-sport nation starved of top-level cricket.
The Pakistan Super League, set up as a source of pride, was played out abroad; only since 2017 have the latter stages returned home, with finals held in Lahore and Karachi.
It is more than ten years since a bus carrying the Sri Lanka national side was attacked by gunmen. International cricket has now come back to the country and, between late February and mid-March, so too will the PSL finally fully take place in its rightful home.
It almost goes without saying that writing about cricket is not a chore. Never, however, has it been as great a privilege as this.
Along a dusty highway that leads ultimately to Lahore, there lies an innocuous turning onto a narrow dirt-track. Children stroll down the main road to their schools and horses pull their owners on wooden carts, while motorbikes and cars jostle for position. It is a scene of peaceful calm in this rural corner of Imran Khan's Pakistan. Around the bend, a sideroad leads to a vast acreage of sugarcane, wheat, cotton and mango trees that stretches as far as the eye can see.
And then, among the undisturbed greenery, one field sticks out. It carries no unnecessary grandeur, no sparkling lights that might bring extra attention to its existence: just a sign offering visitors an unpretentious welcome to the Tareen Cricket Academy. It is fitting that it should infiltrate the swathes of cropland that surround it. In this region, this is an accurate metaphor – the birth and subsequent rise of a cricket academy in the midst of a socio-geographical void, where little else exists.
The ground – and all that it represents – is the brainchild of Ali Khan Tareen, part of a family that has enjoyed success in the farming industry and Pakistani politics, a young man desperate to give back to his community.
The project works in association with Multan Sultans, the PSL team co-owned by Tareen. In the murky world of franchise cricket, where success is measured by trophies and the immediacy of glory, here lives a rare exception. If the principle of altruism is truly impossible, then this runs that theory close.
The philosophy is simple: to turn the middle of nowhere into the middle of somewhere, to give something to those who have nothing, to improve the national player pool. Everything about the initiative is, quite simply, superb.
Until Shoaib Bilal made his Quaid-e-Azam One Day Cup debut in 2018, Lodhran had never produced a first-class cricketer. "This place is like heaven for us," he says, fighting through a buildup of tears and gazing around a field that just five years ago was an unlikely fantasy.
"At local clubs, we wouldn't even get to bat. Out here, not only do we get a chance to work on our skills, we have this ground to implement whatever we're working on."
The Cricketer has been invited to spend the week watching over one of the academy's weeklong, semi-regular camps. David Parsons, previously England Cricket's performance director and one-time spin bowling coach, and South African Gio Colussi, a specialist batting coach, are heading this instalment. Jonty Rhodes, Gareth Batty, Azhar Mahmood, Mushtaq Ahmed and Ian Pont have all been out here in recent times.
As daylight disappears, the sun drops rapidly. A clear blue sky is replaced by a thick fog, before the late afternoon dusk shines a bright red through the evening haze. In the distance, the chimney from a nearby factory shoots a stream of smoke upwards. The scene is idyllic and the temperature – for so long perfect for cricket – tumbles dramatically as nightfall quickly takes charge.
And still, spinners twirl away in the middle, batsmen exchange further throwdowns in the four purpose-built nets and fielders hurl catches at one another as the visibility fades. The vast majority of the academy youngsters are local to the area; the rest of those who attend the camps are from all over the country and are known to Tareen, who simply wants to help. They are ferried from wherever they may be, put up in the guesthouse adjoined to his own home and driven to and from each session. Zeeshan Malik, a rising star of Pakistani batsmanship – he made a first-class double hundred in October, has undertaken a nine-hour bus ride just to be part of it.
And it's free. Tareen wants nothing in return – only smiles, happiness and a world in which these youngsters have a chance. He has created a dream factory; not all of them will come true, but he has given these youngsters – often disenfranchised and ignored by wider society – an opportunity to believe in a better future and in themselves.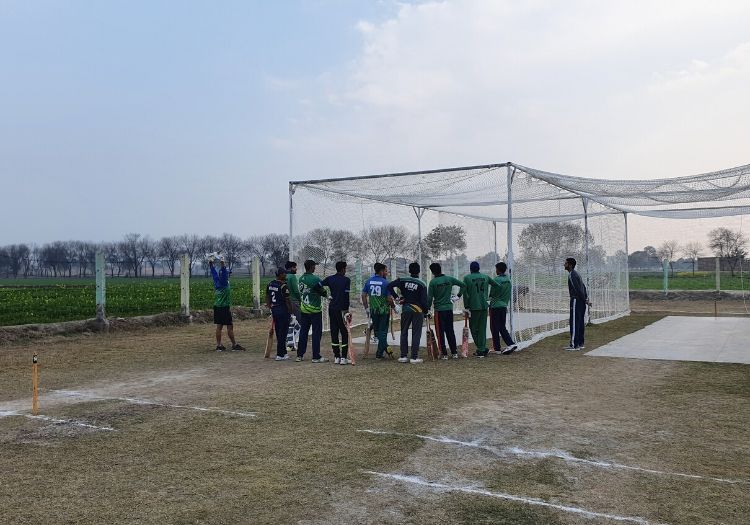 Ali Khan Tareen, who co-owns Multan Sultans, founded and runs the academy
"What Ali has set up is something that is incredible," Batty reflects. "For some of the guys, it is a way out of a very difficult life."
The Surrey off-spinner was overcome with emotion as he said his goodbyes at the conclusion of his stint and he left a major impression on the young players. "Part of it hasn't fully sunk in yet and I don't think it will for a period of time," he confesses.
"I think it probably sums up where the country is and where the people within it are; they are desperate for that bond and that backing from an outsider. Life can be very hard there. I suppose we're used to lots of opportunities and it's whether you're lazy or proactive as to whether you take or don't take these opportunities, whereas they are starved of opportunity. If they believe someone is going to invest in them, they jump at it with both hands and they don't want to let it go.
"Being out there made me a more rounded person. I just think I look back on the whole thing with incredibly fond memories. There's no negative to any side of it. It's an amazing thing. We take a lot for granted in our normal lives. I certainly don't take things for granted anymore. It makes you a better human being, if you're being brutal about it."
Multan's PSL franchise has given the city a brand and a sense of being that, perhaps, it didn't previously possess. And Tareen is at its heart; he lives locally and often returns from his travels with new cricket equipment for the academy's youngsters. He leaves with their shoe sizes and brings back bowling boots. Fresh yoghurt comes from his dairy farm to provide vital protein for those whose home lives prevent even these basics.
"I think this is phenomenal," adds Adnan Malik, a Pakistani actor and director, who is working on a project with the initiative.